It's really tempting to give Rusty the points for yesterday's question if only because he's made great strides in getting past his Wookiephilia to start mentioning R2D2 -- who, I pointed out once on Twitter, had progressed so much through the six Star Wars movies that if Lucas had made a seventh, Artoo would have been the first 'droid Jedi.
But there
was
a 'droid Jedi -- a "non-canonical" one, but one nonetheless, these advances in civil rights are taken in baby steps, after all, like how we Americans finally elected a black president and then spent the next four years delegitimizing him so we never had to do
that
again -- the first 'droid Jedi being "Skippy, The Jedi Droid":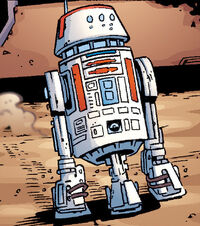 And he's not an R2 unit at all! R5, "Skippy," to his friends, somehow was able to use the force to escape Jabba's palace and get on to the Jawa sandcrawler with R2 and C-3PO, and used Force suggestion first to get Uncle Owen to buy him, but then faked an explosion to get R2 bought, instead, because he had a vision that if R2 was left on the crawler everything would fall apart.
When I went looking for a sample page of Skippy's adventures to post you, I came across this far more fascinating comic page:
When he wasn't creating Spider-Man and the other heroes you love, Stan Lee was writing "
Our Love Story
" comics. That's from issue 16, which came out in 1969. The girl in front kind of looks like Mary Jane, Spidey's second girlfriend, doesn't she?
And now, apropos of nothing, here's
Question 80: Which character in Star Wars was originally supposed to be a giant lizard?
By the way, Rusty, you
did
get 40 points for being the last commenter.