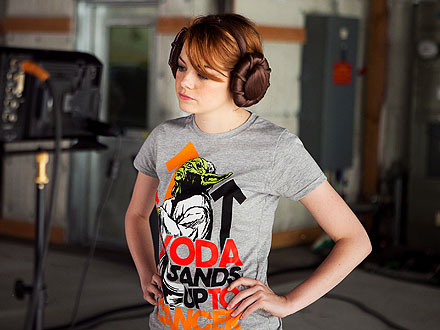 Andrew got the answer to yesterday's question right: the Hoth scenes in
The Empire Strikes Back
were filmed (in part) on
Hardangerjøkulen Glacier in Finse, Norway. You can get a guidebook to tour the glaciers, Empire-style (I don't know what that means but it sounded good). You won't be able to find the actual entrance to the Rebel base; that was a matte painting, according to that guidebook.
And now Question 79: What major character from Episodes V and VI did George Lucas originally intend to be a clone from a planet of clones that started The Clone Wars?
The picture to the left is Emma Stone in a Stand Up to Cancer t-shirt; apparently, Star Wars vs. Cancer T-shirts were a thing last fall and I didn't even know it.