K
enneth Arnold is not a dolphin and has nothing to do with them, so far as I can tell.
I was all set to post that second thing about the dolphins when I got a little distracted, and here's how it happened. I happened to remember the movie
The Fourth Kind
, and went to look it up to see if it actually did claim to be based on a true story, as I recalled, and it did-- the movie purported to document the disappearance of 20 people in and around Nome, Alaska, blaming alien abductions for their disappearance, much to the dismay of both the locals, and the FBI, which investigated and blamed cold weather and alcohol.
That was
about
to get me started ranting about how "
based on a true story
" ought to be banned as a tagline unless the
heart
of the movie is the true part of the story, something I've thought since I saw
The Strangers
and loved it
until
I found out that the "true story" behind that horrifying home invasion story is that once, when the writer was a kid, someone knocked on his door.
Seriously. That's it. From
a guy knocking on his door
he got the idea for an anonymous, random home invasion torture killing, okay, fine, but
it's not based on a true story
. That's like saying
Star Wars
is based on a true story because once George Lucas saw a moon.
But I got distracted from that because in the Wikipedia article about
The Fourth Kind
it mentioned J. Allen Hynek's "classification of close encounters with aliens," because J. Allen Hynek is the guy that came up with "1st kind," etc., which is why we all know now how to sculpt the Devil's Tower out of mashed potatoes.
So I went to read about J. Allen, and the first thing I see is that
he's part of three different projects the US Air Force had to investigate UFOs
:
Project Sign, Project Grudge,
and
Project Blue Book
.
Which brings us to Kenneth Arnold, the guy who might have created the term "flying saucers." According to
his
Wikipedia page, Arnold was a private pilot who'd been on a business trip and detoured to look for a downed military plane; after giving up on that, Arnold reported seeing a series of objects with convex shapes flying at a speed he estimated at 1,200 miles per hour. (Commercial airliners typically fly at about 500 miles per hour these days.)
Arnold would later describe the items as moving like saucers skipping on the water, a statement that would get misquoted as
flying saucers
.
Another person, Fred Johnson, wrote to say that he had seen the objects, too; this was taken by some as confirmation that they existed, but Johnson (a prospector, which apparently was still an occupation in 1947)
wrote that he had read about the sighting in a newspaper
; I would find it more credible if there had been separate reports that did not play off each other.
Arnold's sighting set off a wave of other sightings, one of which was photographed: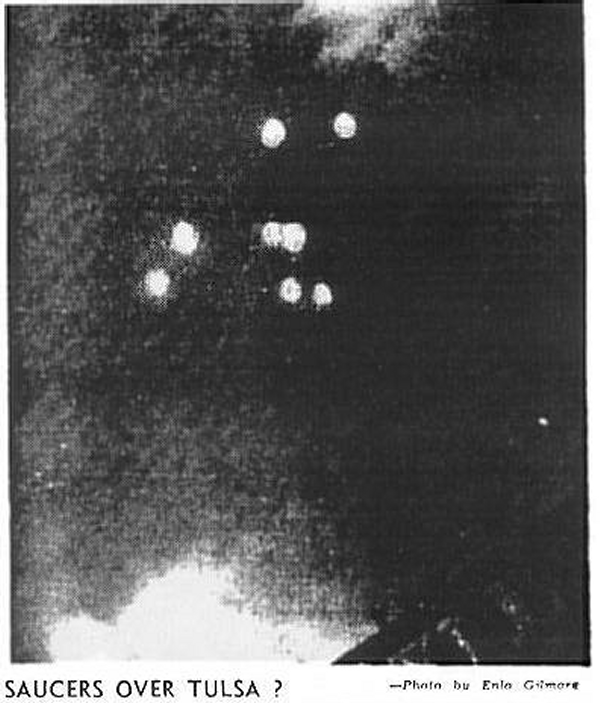 That photo was taken by Enlo Gilmore, of Tulsa, and he said that in an enlargement the objects looked like "catchers mitts."
The official military explanation for what Arnold saw was a
mirage
. "Superior mirages" occur when the air below your line of sight is colder than the air above it -- and a particular type of
superior mirage
is a "Fata Morgana," or
dancing tower
mirage.
Fata Morgana
are so compelling at times that they have fooled explorers into thinking a land mass exists -- something that happened even to Robert Peary, who
named
his mirage-land "Crocker Land."
The other explanation for what Arnold saw?
Pelicans
.
Which are kind of like dolphins, which I'll get to eventually.
And now on to
Question 49 of the great 100-day, 100-question Star Wars Blogathon.
Worth
26
points:
Where was Echo Base located on Hoth?
Commenter 6 gets the 10 extra points, even if he/she is commenter 5.
Also: Andrew got yesterday's question right, but Rusty got 20 points for naming Darths. Andrew got the other 5.