See that? That's the second letter of this alien alphabet:
And I chose it because as the second letter, it roughly corresponds to B. Although I'm not sure that's a valid reference because depending on how you group them, there's 17 letters in that first line alone.
Then again, it appears the aliens who made up this alphabet got a little bit lazy because by the second row they're just using our numbers.
But can you blame them? Our numbers are pretty effective, after all. Just try counting stuff without them and see how far you get.
I found this alphabet by Googling "Alien Alphabet," and I got to a site called "
Abduct.com
," which promised to tell me all about this alphabet and how it was shown to a Minnesota man only it did nothing of the sort. So I had to resort to
further
investigoogling and found
a comment thread about the 2012 Mayan Calendar warning
in which this alphabet was said to have been shown to a "Minnesota Man" and the site asked for information from people who might have seen that alphabet.
Abduct.com says that the alphabet was shown to Manuel, and I know, I should probably have made this the entry for M but then, I started it before realizing that, so what are you going to do? I am what I am, as Napoleon said.
And that is literally
all
Abduct.com says about that alphabet:
That its was shown to Manuel The Minnesota Man
. Well, it's not like me to leave a mystery like
that
unexamined, especially when the alternative is "
cleaning up the house like I promised Sweetie I would
." So I hit a different link on that site and found this quote:
Manuel is an abductee from Minnesota who has been shown many strange symbols and pictures by the aliens. He knows the meaning of some of the symbols and drawings. He is hoping to find other abductees who recognize this star chart and what it means.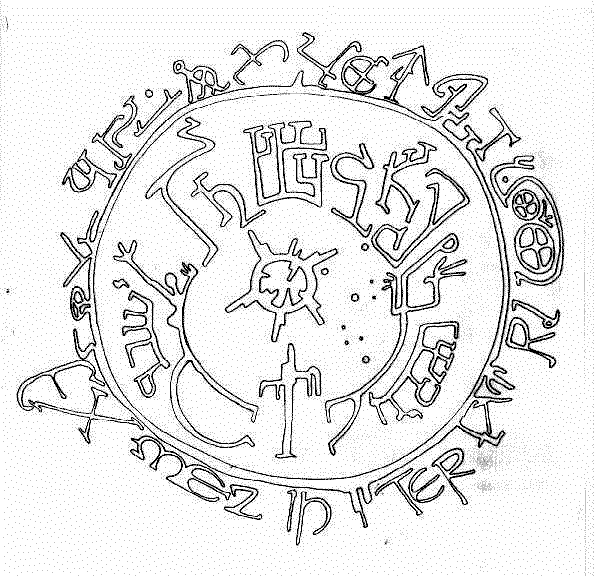 Here is what he explained about the drawing. He said, "This is a particular piece. I have almost a ream of symbols related to 'memories' I now know to be implanted and 'received' that come from possible contact experiences."
"I have material I am compelled to transcribe which are Rune-like in appearance. I have been compiling them since 1978. I call them automatic writings. I drew this symbol below in 1990 and it was finally translated in 1997. I know what it means. I have recent material that may have been the result of a recent abduction experience. Something is up. Secondly, do any abductees report being told that they are 'mission engineers'? I really need to know."
That's all
that
site says about Manuel The Minnesotan Abductee.
This site says that a woman named Lyn came up with similar drawings to Manuel's, even though she never met him
. (The symbols don't look all that similar to me, but that's the skeptic inside.)
I couldn't find anything else about Manuel The
Minnesotan
Abductee. I did find
Manuel Olaer's story
, posted back in 2004, about his abduction in which aliens implanted "600 million tiny devices" in his body that let him communicate with them and create life. I think. It was hard to read.
So that is my entry for the letter
and now on to the important business of the day:
MAJOR DOINGS IN THE STANDINGS and WHATNOT of the GREAT 100-DAY 100-QUESTION STAR WARS BLOGATHON!
First, Author Michael Offutt (author of the upcoming sounds-like-it's-great sci-fi book
Slipstream, which you can read about on Goodreads
) and Author Alex J. Cavanaugh, author of the already-here and bestselling sci-fi books
CassaFire and CassaStar, which you can read about here
) have been found, bountied, and frozen in carbonite -- and Rusty "I Should've Been Guessing Boba Fett" Webb got 1,000 points for bringing them both in.
Plus, Alex and Michael, you
each
get 500 points, which puts you firmly in the running.
Second
: You may have just gotten a major publishing contract that made you Affable, Author P.T. Dilloway, but you
WHAMMIED!
this time around:
Which brings us to
third:
THERE IS A NEW LEADER ATOP THE STANDINGS!
I believe this is the first lead change we've had since this started: Rusty's bounty hunting and bold 600-point wager was enough to bump him above Andrew Leon, who no doubt has
already
ordered his troops to execute Order 66.
(Sorry, Andrew -- I kind of made you the Sith, there
.)
The Official Standings Are Here.
Which brings us to
fourth
:
Sam, and Cindy -- I have not forgotten your prizes. I'm just waiting, for logistical reasons (
translation: I blew my allowance at the Dollar Store
) and will get it to you And also,
PT Dilloway
, you were the winner of the prize drawing this week, but I think you already have a copy of every single book ever written, so I'll let you pick two ecopies to read from (A) Any of my books, (B) Any of Andrew's (C) Any of Rusty's, (D) Any of Cindy Borgne's, or (E) I'll buy you Michael's when it comes out.
Let me know which you choose.
Which brings us to
fifth
, finally:
If you are starting out in the Blogfest, remember that
anyone can win
prizes each week -- each comment is a name in the drawing on Sunday when I give away from 1-3 ebooks -- and if you comment here one o YOUR books will make it into the prize drawing. (Didn't see your name in that list and you've left comments here? Let me know and I'll add you in.)
Plus, with the WHAMMY! and all, you can earn points quick -- look at Lara; she's in sixth again, after being at zero. And plucky little Rusty show's anyone can claw their way to the top, if they just believe in Wookies enough.
Which brings us to
sixth
, FINALLY!
Nope. Not the question yet. A
new
bounty: 500 points to the person who gets
Sandra Ulbrich Almazan to leave a comment here.
Which brings us to
seventh
! FINALLY, am I right?
The question, worth
27 points:
Who was Boba Fett's father?
Commenter 4 gets the 10 extra points -- unless they're commenter 3, also.
Which brings us to
eighth:
I decided that people can
gift
points -- so if you can convince Michael or Alex to give you their points, you can get a 500 point boost. Andrew! Rescind Order 66!