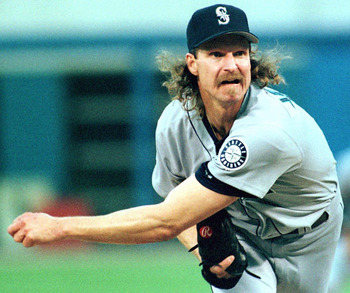 In case you are wondering how to get rid of the last bits of humanity you have, I have something that might help you out: Have you considered buying someone a watch that costs $15,500?
In
The New Yorker
this week, there is a piece in
Talk Of The Town
that is apparently supposed to be sympathetic to Randy Johnson, who was a baseball pitcher and is now an awful person who wears, on his wrist, a watch worth more than most people make in a year.
But he doesn't want you to buy the watch he
wears
, mind you, which is (I gather) part of why
The New Yorker
feels he is admirable. (The other part is that Johnson has a picture of the Twin Towers.)
Johnson was profiled in
The New Yorker
because he was in town to promote "The Big Unit," the watch he is now endorsing, or something (he is a "
friend of the brand
,"
The New Yorker
says, and such a
friend
that he lent his baseball nickname to the
brand
).
The
Big Unit
was named
watch of the week
by GQ, a magazine which still exists and does so, apparently, unironically. This is it:
And if you love baseball, or time, enough to get that monstrosity, well, you are a bit of a monster yourself, as it retails for $15,500.
Reality check time: 13.8% of the people in the United States lived below the poverty line as of the last census. The poverty line, you might want to know, is $15,130 for a 2-person household. 1 in 8 people do not make, in a year, enough to buy the latest
watch of the week
in GQ magazine.
Randy Johnson does not wear
The Big Unit
. Randy Johnson wears something called a
Sonata
. The
Sonata
watch that Randy Johnson, terrible human being, wears,
is apparently an engineering marvel
that can do everything but solve the problem of how we can let people spend that much money on a watch when other people around them are starving and homeless.
But that is not Randy Johnson's problem: he can afford to pay $39,000 for a watch, as he did.
The poverty line for a family of 8 is $38,890. Families of 8 are expected to live, annually, on what Randy Johnson, soulless corporate demon, paid for
his watch
.
"
Ding, Ding Ding
,"
The New Yorker
quotes Randy Johnson as saying about the song his watch plays. Every time a bell rings, a rich man looks at his watch and
12,600,000 children skip a meal because their families had to choose to pay rent or buy food
.
Ding Ding Ding
.
Just for fun, I
search engined
"Randy Johnson Charity" and checked his Wikipedia page. Apparently, the Internet is not interested in posting what I assume are the numerous charitable things a man must do to keep his soul from burning in Hell for wearing a $39,000 watch while hawking a $15,500 watch from which he will profit.
Nor did
The New Yorker
mention any charitable work. It did mention that Randy is into photography now. He took a picture of
Rush
for a magazine cover recently.
I once stayed up late to watch Randy Johnson pitch in Game 7 of the World Series, one of the few baseball games I ever watched. I remember admiring him. Now that memory makes me sick.
Randy mentioned at the end of the piece, without apparently realizing the irony (?) of it, that he doesn't even need the watch: "
I have nowhere to be,"
he told
The New Yorker
.
And all the time in the world to not be there.