Something happened, I think, in
Ulysses
but I'll be darned if I know what.
I'm 28% of the way through this book and it feels like I have been reading it for my whole entire life. For today's portion, I started on what
seemed
to be an exciting part: Bloom has left lunch and is walking around and he sees someone or something or whatever. Bloom comes to the library and then:
Straw haw in sunlight. Tan shoes. Turneduptrousers. It is. It is.

His heart quopped softly . To the right. Museum. Goddesses. He swerved to the right.

Is it? Almost certain. Won't look. Wine in my face. Why did I? Too heady. Yes, it is. The walk. Not see. Get on.
And I can't figure out what happens after that. I think Bloom ducks into the library for a second, but to avoid someone? To see someone? Who knows? Because immediately from there we're sent back to the lunch that Bloom has just left and I can't tell if Bloom went
back
or if it's just a change of scene, that Bloom is in the library or the museum.
So that happened, maybe, and then the rest of today's reading was all the guys sitting around talking about Shakespeare, and maybe one of them has an idea that he's going to rewrite
Dante's Inferno
. Again, I can't really follow it. They are talking about Shakespeare being immortal, or not, and they seem to be making fun of him sometimes, and other times to be reverent, but there is also a fair amount of reference to Plato and Aristotle and whether a horse has enough horseness, which I understand a bit.
Plato had been popping up in my life this week,
first as referenced by Andrew Leon's supersophisticated comment to the latest Mr F, Chair Pioneer,
and then in today's reading, when Bloom or someone -- Joyce jumps around a lot from mind to mind, and it's never clear to me who is thinking or talking. He doesn't use quotation marks, for one thing. Talking is denoted mostly by a dash in front of the line:
-- Monsieur de la Palice, Stephen sneered, was alive fifteen minutes before his death
is an example, and one that sidetracked me because it's another one of those things I'm just supposed to know about, because all of Bloom's hyperliterate friends know about it.
Monsieur de la Palice
was a French nobleman,
and one with a remarkable career, it seems.
Battles, held hostage, becoming a vice-roy, and all that. The saying that Stephen, Bloom's friend, quotes, appears to be based on a parody that rose from la Palice's tombstone, which reads
Ci gît Monsieur de La Palice: Si il' n'était pas mort, il ferait encore envie.
("Here lies Sir de la Palice: If he weren't dead, he would still be envied.")


But which was mistranslated as
.il serait encore en vie
" ("...he would still be alive")
and which later was made into what Wikipedia says were a series of humorous quatrains, the
Song of la Palice
, which contained this phrase:
| | |
| --- | --- |
| Monsieur d'la Palisse est mort, | Sir de la Palisse is dead, |
| Il est mort devant Pavie, | He died before Pavia, |
| Un quart d'heure avant sa mort, | A quarter hour before his death, |
| il était encore en vie. | He was still quite alive. |
Which Stephen is obviously quoting, which means that even back in Bloom's day, people's conversations consisted primarily of quoting things.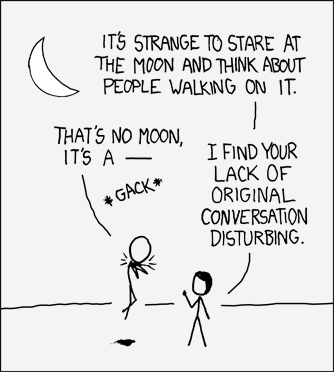 source: XKCD.
And Plato is referenced in this chapter as Bloom wonders about the
horseness
of a horse, a reference to Plato's ideal objects, the theory that somewhere out there is a
perfect chair
, for example, and that we know that perfect form and our memory or knowledge of the perfect form allows us to see the
imperfect
recreations of those things around us: we recognize a tree as such because we see how different it is from a tree.
(Plato, by the way, would disagree with people like Rusty Webb and Michael Offutt, I bet, about whether it's okay to look up an answer in a quiz. Plato's hypomnema was a written record of everything he and his students had seen, heard, read or thought, and Plato viewed that as a proper subject for later reflection. So Plato probably would have
search engined
the answer.)
In the course of discussing Plato and the fact that Aristotle was once a student, the gang goes on to come up with some sort of mockery of Hamlet and then offers up this gem that I love and which ought to be on a t-shirt:
A man of genius makes no mistakes. His errors are volitional and are the portals of discovery.
That should be on a t-shirt. And it WOULD BE but the site I use to make my t-shirts is acting up today so you'll have to wait, I suppose.
The installment finished up with the guys making fun of Ann Shakespeare and Socrates' wife or one of them. Did Socrates have more than one wife? I don't know. But I do know that Wikipedia says that "
Xanthippe
" means "blond horse," which does not sound like a flattering name, but apparently putting
-hippo
or a derivation of that into a name denoted an aristrocratic heritage, so there was a time that being compared to a horse was a social status thing, just like being fat was in the 1800s.
And that is all for today.
Seacrest out
.