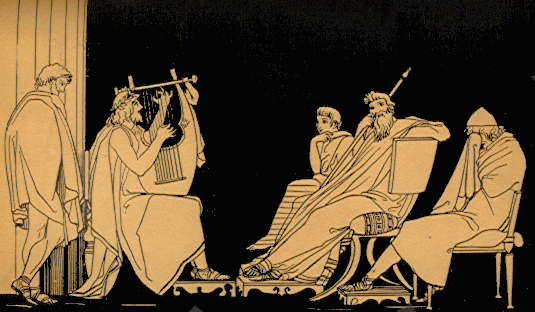 Today's installment might be called "
Lifestyles of the Rich and Vaguely-Related-To-The-Gods
," with a subtitle of "
Seriously, Gods, WTH?
"
I read
The Odyssey
again today, and it picked up where Book VI or whatever left off: Ulysses outside of town while Nausicaa sneaks into town to prepare for him to get to the palace so he can ask for help.
At the outset of Book VII, Nausicaa does that, in about two lines of verse, and Ulysses then waits a while before he himself sneaks into town, at which point the glaring error in Nausicaa's plan can be seen because Ulysses is apparently, without any royal help at all, supposed to go into a strange city, find his way to the palace which admittedly ought not be hard to do, and then get into the palace to get an audience with the local rulers, which seems like it ought to be very difficult to do.
Granted, Greece hadn't had 9/11 when Homer wrote
The Odyssey
, but I have to assume that it was at least
somewhat
difficult for a complete stranger to walk into town and get an audience with the local ruler:

GUARD: Sire, this man was found wandering in borrowed clothes, lost. Nobody knows him. He wants to talk to you.

KING: Well, does his hair look as though it has been styled by the Gods?

GUARD: Now that you mention it, yes.

KING: Show him in.
Luckily for Ulysses, and unluckily for anyone who wasted their time reading Book VI, Nausicaa's plan is completely irrelevant, as Minerva has shown up to help Ulysses, which she does by first taking mortal form and then guiding him into the city past all the strangers and helping him find his way, and then by cloaking him so he is invisible, allowing him to sneak into the palace and
right up to the Queen
, where he is able to (following Nausicaa's directions) grab the Queen around the legs, at which point Minerva makes him visible and he begs for help.
I have to say: the Phaecians in the palace treat the sudden appearance of a complete stranger hugging their Queen around the legs with a nonchalance that is admirable, if a bit sociopathic. Rather than immediately stabbing this guy through the heart -- remember, Great Britain thought about criminally charging the guy who used a telephoto lens to snap topless photos of a Duchess-- the guests are all "
Oh, well, here's something new
," and Ulysses tells them he's had a really hard time so they give him some food and do a little bragging about how they, the Phaecians, are descended directly from the Giants by way of Neptune (there is a little sequence where Homer tells you how that worked) but Ulysses gets a bit whiny and points out that he's
really
hungry and would they just let him eat, for the love of Pete.
That's where I left off today, after a quick twenty minutes of reading, most of which was marked by elaborate descriptions of the way the palace looked, the way the food looked, the lineage of the Phaecians,and then some descriptions of how the wine-bearers poured out their libations, all told in the kind of loving detail you could imagine being in "
House and Parthenon Magazine
" (this week: 13 tips for removing olive oil from marble!) but none of which advances the story very far.
Keep in mind: There were about a billion chapters of Telemachus getting ready to go look for his dad, and that all led to
his first stop
. Then, in one chapter, the Gods meet, send an emissary to the island where Ulysses is being held, tell that nymph to let him go, he sleeps with her, builds a raft, sails across a stormy ocean, and ends up in Phaecia.
In one chapter.
Then, it takes
two
chapters to get him into a meeting with the King, and one of those didn't even need to happen.
But at least I know how they poured out the wine. God forbid that historical detail be lost to the mists of time.