This is not one of those nominations that is going to end with some high-falutin' thoughts about what it all means or the impact of this or the import of that.
There are probably significant sociological/philosophical/psychological points to make about the rise and fall of girls kissing girls in pop culture; there are probably things that could be said about how we've gone from a time when Anne Heche pretended to be a lesbinem*--
*
This is what Sting's son called Ben's mothers on the show "Friends."--
and it was all very shocking and counterculture to the point where Anne Heche could complain
that her being a fake lesbinem was hurting her career (when in fact it was quite the opposite; nobody ever heard of Anne Heche before she began making out with Ellen, and nobody, thank god, has heard from her since) to a time when everyone from Kate Beckinsale to Hayden Panettiere can pretend that they, too, are lesbinems or were or would be.
But I won't. I won't because the only really significant psychological/sociological/philosophical point to make about girls kissing other girls was best summarized by Jerry Seinfeld on his show:
Elaine: Well, I tried, but he thought it was some sort of cat fight. Kramer: Cat fight? Elaine: Ok, why? Why do guys do this? What is so appealing to men about a cat fight? Kramer: Yeye cat fight! Jerry: Because men think if women are grabbing and clawing at each other there's a chance they might somehow kiss.
That sums it up. You don't even need to say that it's cool or awesome; you just need to say that it
is
. Saying "girls kissing other girls is cool" is redundant; it's like saying
hot is hot
or
Christopher Walken is strange.
That's why celebrities still pretend to be lesbinems -- because it's still attention-getting.

The topic of girls kissing girls is on my mind today... well, because it's pretty much never far from the surface, and because I hear there's a new song out by a new singer who's trying desperately to get some traction in the world of pop music, and who has therefore opted for the by-now-as-old-as-the-hills trick of, you guessed it, lesbinemism.

That singer is someone named "Katy Perry," who has released a song titled, quite originally, "I Kissed A Girl." Let's give it a listen -- although I can't show you the original video because Katy Perry wants you to think she's into chicks but does not want you to paste her video on other websites-- so she's into publicity but just not that into it.



So what do you think? I think it's about what I'd expect at this point of the girls-kissing-arc: commonplace and generic. You've got a beat stolen more or less verbatim from "Devil's Gate Drive" by Suzi Quattro, which is a really good song and I'd like you to hear that one now even though it totally does not fit in with this nomination:
But back to Katy Perry: The song feels like what a bunch of ad copywriters would come up with on an offday, doesn't it? It's
lazy
. There's nothing cool or original or fun about it. It might as well be called "
If I Kiss A Girl Will You Give Me A Major Label Deal?"
I'll be anxiously awaiting Katy Perry's other forays into unexplored areas of singing and songwriting, as shown by this fictional-but-all-too-likely list of likely song titles from her next album:
Isn't Obama Cool Unless McCain Wins in Which Case He's Cool?
Collaboration with Rapper Who Was Hot A Year Or Two Ago.
Kind of Justin Timberlake-y Song
Kind of country-esque song In Case Country Is Still Big
Song About A Party.
Remix of the Justin Timberlake-y song.
Yes, Katy Perry is going to take the music world by storm. A very bland, overly-marketed storm, but a storm.
But the kids today love Katy Perry's desperate ripoff song, because the kids today think history started yesterday and because the kids today have no taste in music. Here's news for you, kids of today: Music and history both started before yesterday, and songs about girls kissing girls -- better songs about girls kissing girls -- have been around a long time.
Long enough that other people, too, could try to jump on the Lesbinem Bandwagon and vault themselves to fame, other people who appear to be a parody of a rapper and appear to be unaware that they are a parody of a rapper. People like "Pittsburgh Slim."



"Pittsburgh Slim's" (come on, really?) "Girls Kiss Girls" touches on all the hot-button subjects of 2003: webcams, rap, and girls kissing girls. Thank God we got all of those things together in one handy video on Youtube. It's so frustrating when I have to start my rap music playing on my iTunes and then at the same time have a window open to my favorite webcam girl*--

*note to Sweetie: That is a joke. A JOKE!

-- but Pittsburgh Slim has now saved me from that purgatory. And he's got a bandanna!

My point here is that there's a good way and a bad way to write songs about girls kissing girls. Bad ways include "obvious attempts at attention-grabbing" and "anything done by a guy who would be played by Seth Green in a movie."

"Obvious attempts at attention grabbing" includes TATU, or tATu, or T.A.T.U. or whatever the spelling of their name is. Remember TATU? They were Katy Perry before Katy Perry was Katy Perry:



Generic pop, generic girls, generic song. What TATU has above Katy Perry is this: they did it first. But it still was not great, and not even remotely The Best.

No, for The Best you've got to go way back to someone who tapped into this zeitgeist even Firster than TATU, someone who so accurately captured the essence of girls kissing girls that all the later Katy Perrys of the world could do was simply try to copy them while pretending they were not copying them. Someone who is Jill Sobule, who first sang about kissing a girl long long ago -- at the dawn of history and music -- in her song, titled "I Kissed A Girl."



You know what makes that song The Best? Not only was it Firstest of all, but it was good. The music was good; not generic, not rip-offy, not ripe for featuring on "Robot Chicken." The story was good, too. Katy Perry's story about kissing a girl is what you'd expect from a desperate cry for attention -- it's about a desperate cry for attention, a girl who kisses another girl and hopes her boyfriend doesn't mind and blah blah blah... pleh. Jill Sobule's song actually tells a story and doesn't make you feel like you're listening to a two-year-old acting out; there's none of the "look at me, I'm doing something shocking" motif that other songs feature. It's just matter-of-factly told, two girls who were hanging out with nothing to do so they started necking. The good music, the fact that it was done long ago, the way the story is told, Jill Sobule's singing, all make I Kissed A Girl by Jill Sobule The Best Song About Girls Kissing Other Girls.

Oh, and it's about girls kissing.
Click here to see all the other topics I've ever discussed!
Clouds Rule: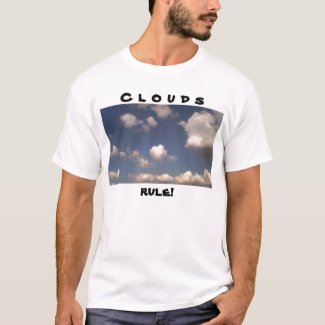 Clouds rule!
by

brianefp

Get this
custom shirt
at
Zazzle
Want a free t-shirt
? Of course you do. Click there to find out how you can get one courtesy of
The Best of Everything: Our Opinions Are Righter Than Yours
.
Nonsportsmanlike Conduct! AlwaysMostlyRight!
: It's the sports blog for people who love sports but hate sports blogs.