I have only once before awarded a Best in two categories to one thing at one time -- the nominee there was "I
Am Not Your Broom
"-- so today's nominee/t-shirt winner is in good company, always assuming that you think being compared to
something who is not someone else's broom
is a good thing. But it is, right? Sure it is.
Read. Dance. Bliss
is nobody's broom.
I've been running
The Great Linking Contest
for a while now, and as great as all the linkers are,
Read.Dance.Bliss
has outdone everyone with this post, which I'm going to go ahead and print in its glory:
Nonsportsmanlike Conduct! says
"read.dance.bliss. Funny.Short.Brilliant!"

"The Best of Everything" says "Writes and thinks the way I would write and think if I was good at writing and thinking."

Thinking The Lions says "read.dance.bliss: For once, a title that captures the essence of the writing."

AfterDark says "like poetry, only fun to read."

Have I mentioned how much I like this guy?

Also, thewunderblog used to call me "opinionated" but doesn't anymore, and back when it was at its old home, my blog was described as "The most defenestrate blog out there." I can't argue with that. Any other descriptions of my blog out there that I haven't seen?
The genius of that link and entry is apparent from miles away, just like the face on Mars that
NASA keeps trying to cover up because it was carved by the giant Martians who keep wrecking our landers. It's genius because it links not only to
The Best of Everything
(required for the contest) but links to some of my other blogs, too (not required, but always appreciated) and mentions that that she likes me (not required, always appreciated, and rarely said by anyone but me-- although I do spend hours telling me how much I like me.)
And it's genius because it includes "defenestrate."
All
works of genius
include the word "defenestrate."
The Brothers Karamazov
used the word "defenestrate" over 75 times, something I can prove by the fact that I just now made it up and wrote it on the Internet. Stephen Hawking probably has defenestrated people. Christopher Walken certainly has. You get the point.
Above and beyond
Read.Dance.Bliss'
admirable admiration for me is Read.Dance.Bliss' writing
and photography and spirit and love of dance and dislike of sexist judges and recognition of how
language can be both simple and beautiful at the same time
, a combination of flair and style and readability and emotion and
music
and
humor
that spins together in a way that, reading it, makes me think that somehow, Read.Dance.Bliss has captured Peter Pan's Lost Boys, turned them into confections, and made them dance ballet.
No, I can't explain that -- but when I sat down and tried to think of a single sentence to describe this blog that was the exact first thing that sprang to my mind: wild kids who never grew up but somehow were also grown up, too, sprinkled with sugar and whirling in a mad twist of kinetic motion that makes sense the more you absorb it.
That's a compliment; I don't write as well as her.
On top of all that great writing and neat stories, I get ideas for books and music and links to videos of foreign songs that I then go home and in a fit of bad parenting show my kids, and also she got me to
Wonderella,
which is just incredibly funny.
I've got
Read.Dance.Bliss
bookmarked, and I check it every single day -- I'm disappointed whenever there's
not
a new entry. Go put her blog into your favorites, and also send her some of the stuff she wants and if you live near her, go see one of the recitals she helps put on.
Oh, and
she probably knew she was going to get a t-shirt
.
Don't despair: the contest is still going on and now you know what it takes to get a t-shirt. Follow the winning stylings of Read.Dance.Bliss and come up with your own links and let me know about them!
Monk: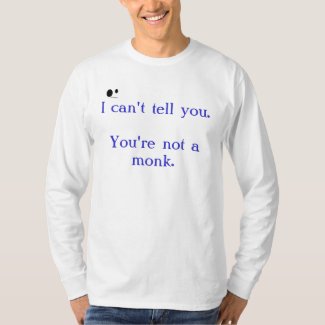 The Monk Joke
by

brianefp

Get this
custom shirt
at
Zazzle
Want a free t-shirt
? Of course you do. Click there to find out how you can get one courtesy of
The Best of Everything: Our Opinions Are Righter Than Yours
.
Babies! Babies! Pets! Pets! is all about the Babies! And the Pets!
. Check out the photos there, and send your own to win a t-shirt!