I was actually asked a question about this nomination, a question I got wrong on a quiz in 10th grade. That lesson taught me the limits of my ability to listen in class and then get the answers right on a test, a habit I had followed high school for books that I deemed too boring or dumb to read but which I was required to read anyway; I'd listen in class (sort of) and then fake it on tests and quizzes and hope for the best.
Sometimes it worked great; in British Lit I got a 108, out of 100 (I got even the extra credit right), despite never actually reading any of the
The Canterbury Tales
, about which I have to say this:
Why are students reading "The Canterbury Tales?"
Can we possibly let some literature just
go
? The fact that something was written 1400 years ago or whatever does not in and of itself make that written thing g
ood.
Look at how many plays Shakespeare wrote -- 4,712 -- and how many we actually teach or make kids read or ever produce:
3.
(I'm not counting those local theater troupes that want to be artsy and so they produce a "modern" version of Richard the 43rd. I'm counting plays someone who is not related to someone in the play sees.)
I listened really hard in British Lit and I can't for the life of me figure out what makes
The Canterbury Tales
in any way worth keeping around, let alone worth struggling through. Reading Old English (or "Olde Englishe") these days is nearly impossible, and not worth the effort; it's a foreign language. We don't require high school students to read
The Iliad
in Greek, but we require them to read something whose only purpose is to be referenced in a Sting song, in the original Old English. It doesn't make sense.
Especially because doing that detracts from teaching books that are written in languages people still speak about subjects that matter, books like
Slaughterhouse-Five,
the book that has
The Best Sad Part In A Book.
Boy, that Kurt Vonnegut can write, can't he? He's amazing, in a really depressing but profound way. I went through a period where I read all the Kurt Vonnegut books I could get my hands on; I read them straight through and really fast and I had to stop because as great as they are, the books are also an extremely depressing collection of literature. Somehow, even when they try to be happy, and even when they are funny, they are sad books.
I think Kurt Vonnegut must have been a sad guy.
I don't know anything about him except what I read in his books, but I do know from my own writing that your emotions and personality tend to bleed through into your work; all the best writers (like me, and Kurt Vonnegut - -there, I put us together in a sentence for the first time) have a voice and that voice carries with it the author's personality and demeanor, and from that, I conclude that Kurt Vonnegut had a lot of sadness in him, so much so that it seeped onto the page with every word.
I didn't discover, right away, what a great writer Kurt Vonnegut was, because, like I said, I didn't begin reading Kurt Vonnegut's work right away, even though it was assigned in class. Assigning me to read a book is the surest way to make me not like it. There were lots of books that I was assigned to read in school, and I almost never liked any of them -- and almost never
read
any of them. I ended up going back and reading them after high school and realizing that they were, in fact, very good books. I can't discount the possibility that I only thought they were good because I read them on my own and did not have to write a paper about them or take a pop quiz about them. Work is work and fun is fun, but if you assign someone to have fun, you make it into work. I love to read, but if you
make
me read you suck the life out of it and so I tried never to read the books that I was assigned to read in school.
Then I got hamstrung by that pop quiz in Advanced Placement English; the teacher handed out the quiz and I hadn't read any of the book and I got an F on it, and had to then actually
read
Slaughterhouse-Five
because I then needed to actually do good on the test and the paper to keep my grade up in that class.
(I eventually got an A in that class, as a high school senior; my teacher put a note on the report card that I "wasn't working to full potential." That still makes me mad. "A" was the highest grade I could get. How much more "potential" did I have than the best possible grade. Plus,
how did he know
I was faking my way through most of it? Nothing makes me more mad than someone accidentally being right about me.)
The quiz question which I got wrong was something like "
What happens to Billy Pilgrim in the cave to disappoint him?
" and if you've never read the book, what follows after this is a HUGE [SPOILER ALERT! THAT WILL BE AS MUCH OF A SPOILER FOR THIS BOOK AS TELLING YOU THAT [SPOILER ALERT WITHIN A SPOILER ALERT!] BRUCE WILLIS WAS DEAD IN
'THE SIXTH SENSE'
! SO IF YOU WANT TO READ THE BOOK
'SLAUGHTERHOUSE-FIVE'
AND EXPERIENCE THE SADDEST THING YOU WILL EVER READ WITHOUT IT BEING SPOILED FOR YOU, DON'T READ ANY MORE OF THIS UNTIL YOU GO GET THE BOOK AND READ TO THE PART WHERE BILLY GOES TO THE CAVE AND WHEN YOU'VE READ THAT COME BACK AND FINISH THIS NOMINATION!]
What
I
wrote in response to that question was:
He got lost.
That's not what happened; as I told you, I failed the quiz. What happened -- here's the SPOILER-y part that is
The Best Sad Part In A Book
-- is this:
Billy Pilgrim, the star of the story, as a child, was taken down into a cave by his dad on a tour. The guide tells the tour group that he's going to turn off the lights, and makes a big production out of that by telling them that they are so deep underground that no light seeps through, and that it's hard to get away from light in our world, and then finishes up by telling them that for most of them this will be the only time they are ever,
in their entire lives
in complete and utter darkness, something they'll never experience again.
The guide then turns out the light.
And little Billy Pilgrim is standing next to his dad, whose watch has glow-in-the-dark hands, which Billy sees.
Oh, man,
just thinking about that again absolutely kills me.
There have been, probably in human history,
dozens
of writers who tried to write something sad. Maybe even more than that. They've written about the fall of civilizations and mothers losing children and children losing mothers and deaths and dismemberments and divorces and psychological problems and all the Pandora's box of ills and woes and trauma that human beings face on a day-in/day-out basis. All these writers over all these centuries, maybe even Chaucer and Shakespeare, trying to evoke
sadness
, a basic human emotion, trying to choke us up.
And none of them did it better than Kurt Vonnegut did in that part of
Slaughterhouse-Five.
That one part is sadder, and better written, than any other sad scene ever in literature ever.
It's sad because there was such build-up for little Billy, only for him to realize the hype wasn't real.
It's sad because Billy's dad inadvertently wrecked a once-in-a-lifetime moment for him without realizing it.
It's sad because Billy's once-in-a-lifetime moment was wrecked,
not by a lot
, but by a little. By
so little
that he, and we, could
almost
be tempted to ignore it,
almost
be tempted to say "
You were still in complete dark,"
almost be tempted to say
it was so close, just let it slide,
but we can't because Billy did not get to experience that once-in-a-lifetime complete and utter darkness that nobody ever really gets to experience.
It's sad because he realized he wasn't in complete darkness; no matter how little light there was, no matter if he walked away until he couldn't see it anymore, he wasn't in complete darknessa nd it was wrecked.
It's sad because if he
tried
, the future, to recreate it, it would never be the same. If he came back later, the next day, or just took the watch and covered it up, broke it, buried it, and had the guide turn out the lights again, it would
not
be the same as the first time, it would be re-doing it.
And it's sad because it was such a minor thing, seemingly, that only seems to loom large the more you try not to make it loom large, the way childhood sadnesses are inexplicably bigger the smaller they seem.
I understand the idea of a small, tiny disappointment that looms larger the more you dwell on it. A few years back, we went tubing on a river and at some point during the day, my wedding ring slipped off and I lost it in the river. I didn't notice until hours later.
I bought a new ring, identical to the first one, and that seemed to fix things. But it didn't. Whenever I look at the new ring, I realize that it's
not
the one that Sweetie put on my finger on our wedding day. It's such a minor thing, but it bugs me. It looms larger than it should because of what it represents.
Because of that, I understand Billy Pilgrim in the cave perfectly; or, maybe, because I understand Billy Pilgrim's cave experience, I understand why the loss of a ring bothers me so much. A
once-in-a-lifetime
event cannot be re-created or re-done. Things are "once-in-a-lifetime" for a reason and if you miss them, they're over. Billy's trip to the cave was over. If he came back the next day, that darkness would
still
be tainted by the memory of the fact that the
first
time, he wasn't in complete darkness.
It's a moment that he hoped for and could never get back. Every other sad thing in life pales in comparison to that loss. When people die, when disasters occur, when sad things occur, they all boil down to this:
something is gone that can never come back.
But in all other cases, that something that went away, that something that is lost, was here for a while. When someone dies, we mourn their passing but relish the times they had, even if they were brief.
In Billy's case, the moment
never occured.
He lost something he never had. That tears me up, to think of it. I understand, at least a little, how that would feel, but I understand it because in a few brief words explaining a seemingly insignificant event in Billy Pilgrim's life, Kurt Vonnegut explained what
sadness
really is, and what sadness really is, is missing something that we never had in the first place. Billy Pilgrim's cave trip is
The Best Sad Part In A Book.
Click here to see all the other topics I've ever discussed!
Date Quiz: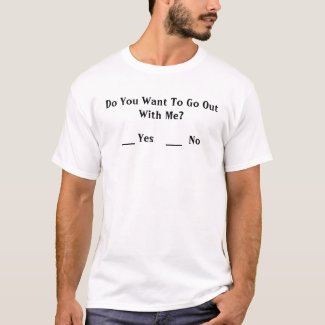 Date Quiz
by

brianefp

Get this
custom shirt
at
Zazzle
Want a free t-shirt
? Of course you do. Click there to find out how you can get one courtesy of
The Best of Everything: Our Opinions Are Righter Than Yours
.
Like horror stories?
AfterDark: The Scariest Things, You CAN'T imagine
.