Filmmakers use music to set a mood -- it's no secret, I'm sure, that they carefully choose the music to indicate certain things to people, especially at the outset of a movie or in the previews for a movie or TV show.
The music is fantastically important to setting a mood. Remember the ending to [SPOILER ALERT INVOLVING THE FIRST RICHARD GERE/DIANE LANE MOVIE, WHICH IS WEIRD BECAUSE NOW THEY'RE MAKING A SECOND ONE, ONLY IT'S NOT A SEQUEL TO THE FIRST ONE, WHICH IS JUST LIKE THAT THING THAT GERE DID WITH JULIA ROBERTS WHERE HE MADE 'PRETTY WOMAN' WITH HER AND THEN LIKE 15 YEARS LATER MADE 'THE RUNAWAY BRIDE' WITH HER AND EVEN THOUGH IT WAS THE SAME PEOPLE, IT WASN'T A SEQUEL, AND NOW HE'S DOING THAT WITH DIANE LANE, SO I GUESS IT'S HIS 'THING,' ALTHOUGH COME TO THINK OF IT, DIDN'T TOM HANKS DO THAT WITH MEG RYAN SO MAYBE GERE IS COPYING HANKS. HOW COME GERE AND HANKS HAVE
NEVER APPEARED IN A MOVIE TOGETHER? THEY COULD MAKE A ROMANTIC COMEDY WHERE THEY BOTH FALL IN LOVE WITH THE SAME GIRL, WHO DATES THEM BOTH AT THE SAME TIME AND FEELS TERRIBLE ABOUT IT AND WANTS TO END IT WITH ONE BUT LOVES THEM BOTH EQUALLY, SO SHE TRIES TO GET HER TWIN SISTER INVOLVED IN THE RELATIONSHIP, TRICKING THE TWIN INTO GOING OUT WITH TOM HANKS AND THEN RICHARD GERE TO SEE WHICH ONE SHE LIKES AND IF THEY ARE FOOLED AND LIKE HER, SO THAT SHE CAN THEN BE WITH THE OTHER ONE AND NOT FEEL BAD, ONLY THEN THEY BOTH FALL IN LOVE WITH THE TWIN SISTER, AND
ULTIMATELY IT ALL WORKS OUT FOR THE BEST. I WOULD TOTALLY GO SEE THAT MOVIE] "
Unfaithful"
where Richard Gere and Diane Lane, having killed a guy and then gone to their kid's program, sit in the car? As I recall, it was either quiet or there was some soft sad music playing while the car just sat there in the dark and everyone left the theater thinking
"Oh, man, that's messed up."
Now, picture that same scene, only playing over the view of the car and the credits is "Yakety Sax." You'd walk out of that movie going
"Yeah! Way to go, Gere and Lane! You totally messed up your marriage and killed a guy but now you're probably going to a wacky party.
From that, we can see how music sets the mood and tells you how to feel and what to expect, kind of like a Mom does. There are even specific songs that they use in previews to clue you in to what to expect. They use, for example, that Buffalo Springfield song about
something happening here what it is ain't exactly clear
, to tell you, the viewer, that this movie will not be straightforward, there's something weird about it. That song was used in
Three Kings
previews to tell you, the viewer, that this ain't no
Private Ryan
or ... what's another war movie?
Star Wars.
Using that Buffalo Springfield song with its minor keys and pings and soft lyrics tells you that
Three Kings
is not
Star Wars.
Which brings me to Irish music, and the way Irish music is used in movies to tell you that although there are some good times ahead, the good times are fraught with portents of evil to come and something bad is pretty much going to happen.
Irish music
in fact is
The Best Music To Indicate That Good Times Lie Ahead But Also That Everything Is Fraught With Portents of Evil.
Here's how I came to realize that fact: Last night, I had to run some errands and so I popped the
Babies!
into the SUV we have to use to drive them around even with gas more expensive than steak, because the car seats are in the SUV and I'm too lazy to try to move them everytime we need to. As I was driving around on my errands -- dropping Sweetie off, getting an ice cream cone, going to the library to buy discount used books -- I first listened to the song "
Istanbul Not Constantinople
" by They Might Be Giants. Here's that song:
Nice, huh? Catchy, upbeat, fun. Later, still driving those errands, I listened to "Fire In The Belly," by The Kissers. I can't play that song for you because there's no video for it. But the song "Shipping Off To Boston" by The Dropkick Murphys has a similar feel, so here's that song:
And while I was driving around to
Istanbul
, life was good and happy and sweet and I was singing and laughing. While I was driving around to
Fire in the Belly
, I began to feel that something was going to go awry, and soon.
So I tested it out. I picked up Sweetie and put the song in and said to her-- this is the truth --
Pretend that you and I and The Boys are in the opening credits of a movie while this plays and we're just driving around.
So she did, and after a minute or two, I asked her
"What do you think? If that was the beginning of a movie, would you assume that something bad was going to happen to us?
" and she agreed.
So try that. Do something innocuous, something you do everyday, like sit at your desk and blog about Irish music, but first do it while listening to anything else in the world, and then do it while listening to that Dropkick Murphy's song, or this one:
(That's The Pogues, "If I Should Fall From Grace With God") and as you do that, see if you don't keep looking over your shoulder waiting for the tidal wave or gunshot or leg-amputating accident or whatever it was that Frank McCourt was always so sad about to happen.
I'm not the only one who feels this way. They used Irish music in
Titanic
, for that scene where Leonardio DiCaprio dances, and maybe it was just me knowing that the
Titanic
was doomed, but that scene was Fraught With Portents of Evil, despite being a very good time. It wasn't long before Leo and Kate Winslet were making out in the car, and it wasn't much longer before Kate was letting him slip into the ocean and drown. [AND THAT WAS NOT A SPOILER BECAUSE ACCORDING TO THE CENSUS BUREAU, EVERYONE WHO HAS EVER LIVED IN HISTORY HAS SEEN 'TITANIC'. TWICE.]
Martin Scorcese used "Shipping Off to Boston" in the beginning of
The Departed,
which right off the bat tipped you off that things were not going to end happily. Begin a movie with Irish music and you know that at the end you will not see Brett Favre lip-synching to "
Build Me Up Buttercup."
I don't really know what it is about Irish music. It's not that I'm anti-Irish or pro-Irish or even Irish-neutral. I guess I'm in the middle -- I'm somewhat pro-Irish because I'm a little bit Irish and I have one of those t-shirts that says
Everyboy's Irish On St. Patrick's Day
, even though I don't celebrate St. Patrick's day and I'm a little Irish all year round, but on the other hand the Boston Celtics just beat the Lakers in the NBA Finals and that means I lose my bet with The Boy and have to buy him and Sweetie Celtics' t-shirts, and Celtics are Irish, aren't they? But I'm pro-Irish-music because I have a lot of Pogues and Dropkick Murphys and and U2 and Hothouse Flowers and Kissers' CDs, and I like bagpipe music and Scotland is really close to Ireland, so liking bagpipes is kind of like being an in-law in that sense -- bagpipes aren't really part of "Irish" music but they are pretty close to it and would get invited to Irish music's barbecues and people would be polite to them and all.
I say all that to point out that I don't just have some grudge against Ireland, Irish music, or the Irish that I'm going to take out in a passive-aggressive way by pointing out the universal truism that Irish music portends evil after good times. It's just a fact, something that's incontrovertible and that you feel in your gut, the same way you feel that Bruce Springsteen was never really "working class" at all, or that Phoebe never was a real part of the "
Friends
" or ham doesn't belong on pizza:
Irish music
as good as it is at times, is also
The Best Music To Indicate That Good Times Lie Ahead But Also That Everything Is Fraught With Portents of Evil.
Click here to see all the other topics I've ever discussed!
Jim Falls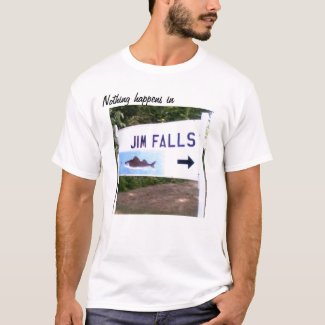 Jim Falls, WI
by

brianefp

Get this
custom shirt
at
Zazzle
Want a free t-shirt
? Of course you do. Click there to find out how you can get one courtesy of
The Best of Everything: Our Opinions Are Righter Than Yours
.
Like horror stories?
AfterDark: The Scariest Things, You CAN'T imagine
.