I saw the other day an article about how a network might bring back, or run, or something, the show
Rules of Engagement
, a show that I have, unfortunately, seen almost 5 minutes of in my lifetime.
Now, I'm not saying that a show which via it's title compares marriage to combat, and which premises its
entire
outlook on life on a few Henny Youngman jokes about the differences between single life and married life is not funny...
... wait, that's
exactly
what I'm saying.
What is the point of the show "Rules of Engagement?"
Where is the humor? Let me sum up what I assume to be the plot of every single episode of
Rules
of Engagement
, ever:
Married guys feel as though they have to pay attention to their wives. Single guys sometimes feel lonely. Hilarity (?) ensues. Also, people fall down. Probably.
Is there something I'm missing here? Is there something that's funny about marriage, or singledom -- and by that, I mean,
inherently funny
, such that marriage, or lack thereof, becomes the "situation" from which the "comedy" springs? I'm married, and I'm pretty sure that Sweetie doesn't think that my being married to her is inherently funny. Lots of work,
yes.
Funny?
No.
It used to be that "sitcoms" had
situations
from which the
comedy
derived. All the great ones did, at least:
Three's Comp
any
, for example, a sitcom that sits (
pun intended
) atop the world of sitcoms, serves as a great example: Guy moves in with two women when society and Mr. Roper and one woman's preacher father disapprove, so he pretends to be gay.
Or another classic set-up:
Herman's Head
-- guy (William Ragsdale) thinks stuff and the various parts of his personality are embodied by real people including Ross' future lesbian ex-wife.
Those two set-ups just
create
comedy all on their own. They serve, as do all great premises for all great works of art, as a springboard for more ideas and stories. They generate a scenario in which the writer can explore various ideas ranging from the ridiculous (Jack gets paid to take out Mr. Roper's niece) to the sublime (Jack gets paid to take out Mr. Roper's niece.)
Compared to those, what kind of "situation" is
marriage?
Is the idea of marriage just too wacky for Hollywood types to pass up? Or do viewers actually enjoy seeing stale jokes about marriage over and over and over, enjoy them even more than watching
Family Critic Guy
and
South Park
just parody each other?
I, at least, do not enjoy them, and I say
put the SIT back in SITCOM
. (And, for that matter, put the COM back in SITCOM). It's not as though there's a shortage of ideas out there. I came up with a bunch just today, driving into work, and I will share them in hopes that by next year, I can turn on my TV and see less of Patrick Warburton getting yelled at for "working late" and more of these shows, which I've created from
The Four Best Board Games
That Should Be Made Into Sitcoms.

That's right. I've used
board games
to show how ridiculously easy it is to create a premise -- a
sit
-- that generates humor and plotlines, and, more importantly, generates humor and plotlines that do not revolve around
my wife is so mean/single life is hard.
Because those aren't humor, or plotlines; they're whiny complaints.
Also, because William Ragsdale, in fact, starred in not just one, but
two
great sitcoms, I am going to feature him as the star of each of these.
1. Stratego

.
Premise:
A Spy (William Ragsdale) hired to infiltrate the opposing army stumbles and bumbles his way around while befriending the General (John Lithgow) and avoiding detection by the Bombs -- a group of sexy counterspies (Amy Smart and Juliana Margulies).
Pitchline:
Hogan's Heroes & Mash for the modern age, plus a humorous take on
The Departed.
Lord knows,
that's
ripe for a humorous take.
Sample Episode:
In Episode 3 ("Bombs Away!"), the General suspects that Amy Smart is the spy, and orders William Ragsdale to take her out and find out the truth. Meanwhile, Juliana Margulies suspects that
William
is the Spy, so she crashes the date to confirm that. Amy, meanwhile, is nursing a crush on William and thinks his date with her is a chance to get together with him -- but gets mad at Juliana, who she thinks is trying to wreck her chances. Hilarity ensues.
2. Connect Four

:
Premise:
Tom (William Ragsdale) finds out one day that he's adopted, and that he might be the heir to a multimilliondollar fortune -- if he can find four relatives to vouch for him. But he's constantly foiled by his sister Tina (Justine Bateman), who's jealous of his impending fortune and does everything she can to prevent him from inheriting.
Pitch line:
"
How I Met Your Mother"
only instead of
mother
it's
multimillions.
Sample Episode:
Episode 10 ("Pretty Sneaky, Sis!") finds Tom tracking down his great-aunt (Betty White) in San Francisco, and making plans to go meet with her -- only to see Tina arrange to send the aunt on an all-expenses paid trip to New York City -- and substitute a mean, crazy old bag-lady in for the real great-aunt! Hilarity ensues.
3. Gnip Gnop!
Premise:
Pete (William Ragsdale) is an up-and-coming television reporter who, while covering a local ping-pong championship, gets hit square in the head by a ping pong ball, an accident that causes him to see and do everything in reverse. To try to keep his job, he hires a pretty personal assistant, Donna, (Jessica Biel) who secretly tries to sabotage him because she wants his job. Only Pete's loyal assistant Susan (Mila Kunis) sees the truth, and she spends her time both secretly loving Pete and saving him from Donna's plans.
Pitch Line: Anchorman
, with dyslexia.
Sample Episode:
In the first episode of the second season ("
Kroy Wen, Kroy Wen
"), Pete tries to get a job at a network, and asks Donna to come with him to help him through the screen test. Susan sneaks along to make sure Donna doesn't wreck things for Pete-- but when Pete finds out Susan is there, he suspects that
she
is trying to get the network job! Hilarity ensues.
4.
Chutes & Ladders:
Premise:
Recently-unemployed Dave (William Ragsdale) bids on an auction on eBay, thinking that he's getting discount tickets to a theme park for him and his family. To his surprise, he learns that he's bought the theme park, named "Chutes & Ladders." He moves his family there to run the park, getting into run-ins with wacky park employees and regular patrons, like the
other
Dave, (Chris Elliott) the employee who claims he is the only one capable of running the "Amazo-Slide," the park's most popular ride, and who tries to capitalize on sharing the same name as his new boss by adopting his other mannerisms, too.
Pitch Line:Ed, Newhart-- and now "Chutes & Ladders.
"
Sample Episode:
When Dave's daughter Elle (Elle Fanning) complains, in Episode 4 (
"Chuting The Breeze
"), about how weird it is that they live in a theme park, Dave tries to get some bonding time with her and show her the fun of their lives by going on a few rides with her. Unfortunately, they get stuck upside down on a malfunctioning roller coaster -- with Other Dave sitting between them! Other Dave decides to help them bond to pass the time, while also pushing for a promotion to running the Amazo-Slide. Hilarity ensues.
Parentheses: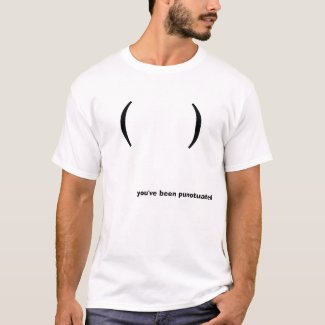 parentheses
by

brianefp

Design
Customized T-Shirt
At
www.Zazzle.com
See more
Humor Sayings T-Shirts
Click here to see all the other SemiDaily Lists!
Click here to see all the Whodathunkits?!!
Click here to see all the MiniBests!
Click here to see all the other topics I've ever discussed!

CallingAmerica.com Free USA Calls !