Can you figure out what these three poems share in common?
OOoohhhh, it's a mystery!
Or a pop quiz. Seems less fun that way, though. Go with mystery.
Jeekies!
Oh, and today they're hot
athletes
because Sweetie has decided that the guy who won the Masters needs to be on here. DOESN'T EVEN READ THIS BLOG, and she's still telling me what to do.
Marriage, amiright?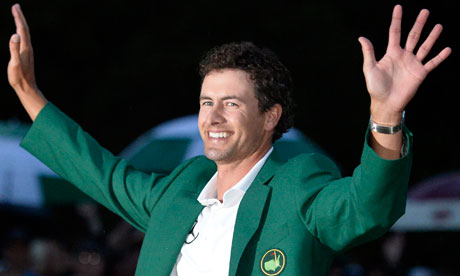 This is the guy who won the Masters. When Sweetie told me to put him in,
she said "Adam Scott, but not that Adam Scott. The guy who won the
Masters."
I said: "Who is that Adam Scott?"
And she said: "Ben from Parks & Rec."
So the moral of the story is:
1. Sweetie is weirdly knowledgeable about guys named Adam Scott.
2. Winning the Masters doesn't make you "the" person with your name
3. You can have more than one moral of the story.
4. Take that, Aristotle!
Love at the lips was touch
As sweet as I could bear;
And once that seemed too much;
I lived on air
That crossed me from sweet things,
The flow of--was it musk
From hidden grapevine springs
Downhill at dusk?
I had the swirl and ache
From sprays of honeysuckle
That when they're gathered shake
Dew on the knuckle.
I craved strong sweets, but those
Seemed strong when I was young;
The petal of the rose
It was that stung.
Now no joy but lacks salt,
That is not dashed with pain
And weariness and fault;
I crave the stain
Of tears, the aftermark
Of almost too much love,
The sweet of bitter bark
And burning clove.
When stiff and sore and scarred
I take away my hand
From leaning on it hard
In grass and sand,
The hurt is not enough:
I long for weight and strength
To feel the earth as rough
To all my length.
This is Sasha Cohen. Not "the" Sasha Cohen.
She's a figure skater. I found her by Googling "hot girl athletes."
Now, off to delete my search history!
by Eavan Boland
How on earth did it happen, I used to wonder
that a whole city—arches, pillars, colonnades,
not to mention vehicles and animals—had all
one fine day gone under?
I mean, I said to myself, the world was small then.
Surely a great city must have been missed?
I miss our old city —
white pepper, white pudding, you and I meeting
under fanlights and low skies to go home in it. Maybe
what really happened is
this: the old fable-makers searched hard for a word
to convey that what is gone is gone forever and
never found it. And so, in the best traditions of
where we come from, they gave their sorrow a name
and drowned it.
El Dorado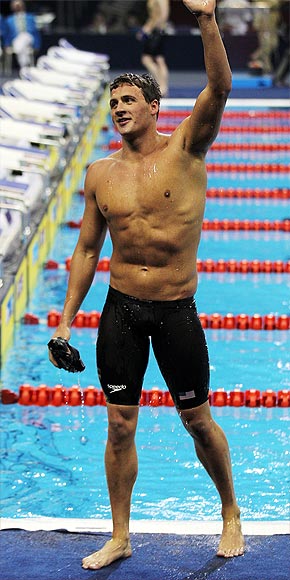 This is Ryan Lochte.
He makes it in here because I made
Sweetie pick another hot athlete
and she said "Ryan Lochte,"
mostly because Mr Bunches saw
an ad for Lochte's new show
and has been going around all week
asking "What Would Ryan Lochte do?"
The moral of the story is:
Sweetie loves abs.
Also, my son's ethical and moral compass
in this world is Ryan Lochte.
by Edgar Allan Poe
Gaily bedight,
A gallant knight,
In sunshine and in shadow,
Had journeyed long,
Singing a song,
In search of Eldorado.
But he grew old,
This knight so bold,
And o'er his heart a shadow
Fell as he found
No spot of ground
That looked like Eldorado.
And, as his strength
Failed him at length,
He met a pilgrim shadow;
"Shadow," said he,
"Where can it be,
This land of Eldorado?"
"Over the mountains
Of the moon,
Down the valley of the shadow,
Ride, boldly ride,"
The shade replied,--
"If you seek for Eldorado!"