If you have been on the Internet in the past several years, then the odds are you have felt Alex J. Cavanaugh's presence. Alex is not just an extraordinary writer of extraordinary sci-fi, but also is (I believe) 2,317 people, judging by his sheer output. THE MAN NEVER SLEEPS, which is lucky for us because it means he's finished his sci-fi trilogy with the release of
CassaStorm!
To celebrate, Alex is taking the world by storm, via a massive blogfest in which his readers were asked to submit questions to him and he'd answer! Any question! Anywhere! Any time! With ANY NUMBER OF TOPPINGS... sorry. My mind tends to focus on pizza.
You can visit and
Comment on Alex's blog this week for a chance to win a Cassa mug, mousepad, magnet, and swag!
Now, here's the question I asked:
Which would you rather have exist in real life: Muppets, or Dinosaurs?
Muppet dinosaurs! I'd like giant, felt dinosaurs in assorted colors. Preferably big and scary but with funny voices.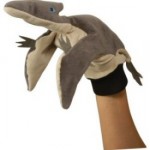 "We love Alex!" -- Muppet Dinosaurs.
Brilliant answer, Alex. It kept your political future alive by angering neither the Muppet NOR the Dinosaur voting populations.
Here's a preview of what you'll get in
From the Amazon Best Selling Series!
A storm gathers across the galaxy…
Commanding the Cassan base on Tgren, Byron thought he'd put the days of battle behind him. As a galaxy-wide war encroaches upon the desert planet, Byron's ideal life is threatened and he's caught between the Tgrens and the Cassans.
After enemy ships attack the desert planet, Byron discovers another battle within his own family. The declaration of war between all ten races triggers nightmares in his son, threatening to destroy the boy's mind.
Meanwhile the ancient alien ship is transmitting a code that might signal the end of all life in the galaxy. And the mysterious probe that almost destroyed Tgren twenty years ago could return. As his world begins to crumble, Byron suspects a connection. The storm is about to break, and Byron is caught in the middle…
"CassaStorM is a touching and mesmerizing space opera full of action and emotion with strong characters and a cosmic mystery." – Edi's Book Lighhouse
"Cavanaugh makes world building on the galactic scale look easy. The stakes affect the entire known universe and yet Cavanaugh makes it intensely personal for our hero. The final installment of this series will break your heart and put it back together."- Charity Bradford, science fantasy author of The Magic Wakes

"With a talent for worldbuilding and a compelling cast of characters, Alex J. Cavanaugh combines high powered space battles and the challenges of family dynamics to provide readers a space opera with heart."

- Elizabeth S. Craig, author of the Southern Quilting and Myrtle Clover mysteries
"…the racial conflicts propelled much of the plot in this story, driving home a message that's relevant to our own world and giving the book an interesting texture."
- C. Lee. McKenzie, author of Alligators Overhead
$16.95 USA, 6x9 Trade paperback, 268 pages, Dancing Lemur Press, L.L.C.
Science fiction/adventure and science fiction/space opera
Print ISBN 9781939844002 eBook ISBN 9781939844019
$4.99 EBook available in all formats
Find CassaStorm:
___________________________________________________________________________________