This is a Sponsored post written by me on behalf of Kmart for SocialSpark. All opinions are 100% mine.
With summer over, and the leaves turning red and brown and yellow, the breeze getting chilly, the nights longer and football on TV, it's definitely… time to start thinking about Christmas and holiday gifts?
Sure, why not?  If you start planning for Christmas now, after all, you can avoid some of the things people hate about the Christmas season, things that include:
Large credit card bills, and
Not getting stuff free.
Those are two of my pet peeves about Christmas, anyway, and number three would be:
Why don't they make beds like this for grown-ups?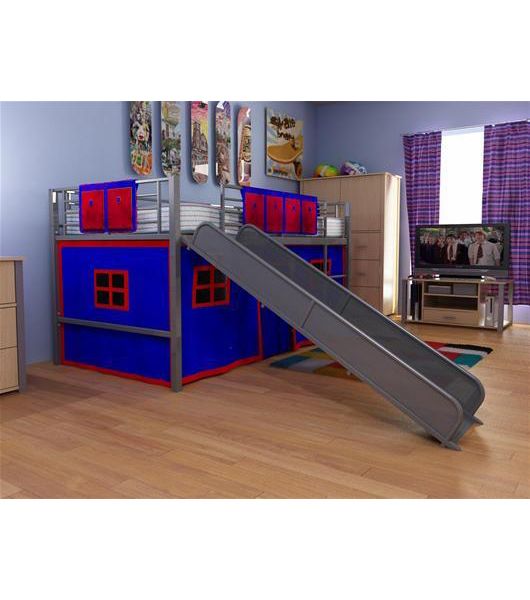 That's the new bed I want to get for Mr F and Mr Bunches for Christmas this year, and before you say "A new bed? What kind of present is that for a kid?" remember that Mr Bunches and Mr F go to the toy store about every 38 minutes, on average, and so they don't need toys, really; they need toys about as much as I need leftover pizza, which is to say, they need them a lot but there's really no reason they should have as much as they already do.
THAT was a tortured analogy.
Here's what I plan to do: K-Mart is having their annual free layaway deal again this year.  You remember "layaway," right? It's how people used to buy things before we decided that it would be fun to not just wreck our own personal finances but also to wreck everyone in the world's: you buy something, and pay for it a little at a time until it's all paid for, and then you take it home.
K-Mart's been doing layaway for a while now, and this year, they've spiced it up with a contest: You can get your layaway item for free through Kmart's Big Layaway Giveaway!
(see #2 above if you are in doubt as to how great this is).
Your layaway purchase, online or in the store, is used as your entry, and every week from September 9 through November 17, 2012, they'll choose one lucky person to get their layaway item free!  That's one drawing per week, for one store per week, for one lucky person per week: Every store, every week, one person will win something free. 
(FREE!)
Which means I could get those beds FREE, and then use that money to buy the boys… or maybe their dad? Something else, too!