When I was a kid, I remember going to the Milwaukee Art Museum on many a field trip, and each time, I was somewhat mystified by a painting there. I was mystified because I thought "That's not art." I thought "That's nothing." I thought, "I could do that." And I saw it every single time I went there, and never understood why it was art.
This is that painting:
It's called "Red Yellow Blue II" and it's by Ellsworth Kelly.
Later, when I was reading a book --
Dirk Gently's Holistic Detective Agency
by Douglas Adams, if you must know -- I came across a quote that explained to me, finally, why "Red Yellow Blue II" is in an art museum. I'm not going to quote him verbatim here, but the gist of it was that things are genius because they don't seem to require genius. In a discussion about the catflap, a character pointed out that Isaac Newton discovered it and that it was genius because it makes everyone say "I could have thought of that" but
they didn't.
So "Red Yellow Blue II" is an artwork that displays that particular kind of genius, the kind that makes you think "I could have done that," but you didn't.
My nomination for the Best Painting Ever is not "Red Yellow Blue II." I'm not as interested in celebrating the quiet, thoughtful kind of genius that takes 27 years to accumulate. I'm interested in celebrating the open kind of genius that demonstrates itself to you right off and makes you want to cry because it's so beautiful, and for that you need look no further than this: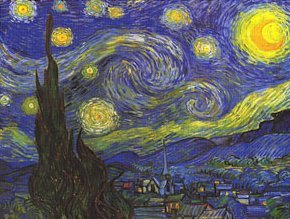 Just sit and look at it for a minute. Look at the way you can see brushstrokes and the colors mixing and the stars are larger than the houses below. There is nothing about that painting that isn't perfect. It reduces its elements to their constituent parts-- you can almost see the atoms that make up the trees and the stars and the house, suggesting that we are all made of the same stuff (right,
Moby?
) and with the stars being that big he creates the feeling that they are close, they are looming, their beauty becomes almost overwhelming.
But what really gets me is you can see
the wind.
You can actually see the air flowing around the things in the picture. I don't know why that makes the picture so great, to be honest -- I'm not an art critic -- but it does.
You can't look at
Starry Night
without feeling the madness and pain and love of life that Van Gogh is expressing, and feel how your own life embodies that painting, too. It takes what everyone thinks of as a quiet, peaceful, beautiful thing, a starry night, and retains that quality while also showing the turbulence that surrounds us even at the quietest times. And that, my friends, is what makes it The Best Painting Ever.